TOP
Baked Red Pepper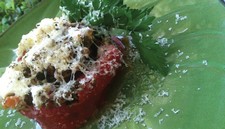 Recipe Date:
October 24, 2014
Measurements:
Imperial (US)
Ingredients
2 red bell peppers, roasted, and seeded
1/2 lb ground sirloin
1 cup yellow onion, diced small
1 cup carrot, diced small
1 cup celery, diced small
2 cloves garlic
1/4 cup chopped Italian parsley
1/4 cup tarragon
1/4 cup basil
3 tbsps olive oil
Directions
Prehead the oven to 350 degrees.
Head a sauté pan to medium heat. Add in the olive oil then ground sirloin and allow to brown. Add in the vegetables, garlic and cook until slightly brown. Add in herbs and then set aside.
Stuff the roasted peppers with the meat and vegetables, top with the cheese and bake in the oven until the cheese is melted. This should take about 20-25 minutes. Serve with sliced bread or buttered pasta.