TOP
Chilled Lobster and Sweet Corn Salad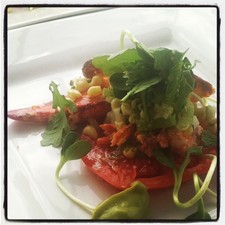 Recipe Date:
October 24, 2014
Measurements:
Imperial (US)
Ingredients
1 heirloom tomato, sliced thin
lobster tail with claw meat poached and then cooled. Then cut into large chunks.
1 small handful of arugula
1 avocado, puree in blender with the juice of one lemon and seasoned with salt.
1 ear corn, cooked and cut off of cob
Kosher salt
To make tarragon vinaigrette:
1 small garlic clove, chopped fine
1 small shallot, chopped fine
1 tsp Dijon mustard
1/4 cup champagne or white wine vinegar
3/4 cup olive oil
1/2 tsp salt
1/2 tsp dried oregano
Directions
In a small bowl combine all ingredients for the tarragon vinaigrette.
To assemble: On 2 plates lay the slice of tomato. Season the tomato with salt. Toss the lobster meat and the corn with 1 teaspoon of the vinaigrette. Top onto the tomato slice. Top with the arugula and drizzle with more vinaigrette, spoon the avocado puree next to the tomato and serve with crostini. Serve immediately.