TOP
Crimini & Shiitake Mushroom Tart Flambé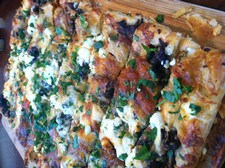 Recipe Date:
October 24, 2014
Measurements:
Imperial (US)
Ingredients
1 sheet puff pastry, thawed
4 cups crimini mushrooms sliced thin
2 cloves garlic
1 cup mozzarella shredded
1/4 cup Italian parsley, chopped fine
1/4 cup shredded Sartori Sarvecchio or Parmesano Reggiano
2 tbsps olive oil (1 for mushrooms, 1 for puff pastry)
Directions
Preheat oven to 350 degrees. Place the puff pastry on a baking sheet lined with parchment paper. Sauté mushrooms with the garlic and olive oil until they are soft. Place the mushrooms on top of the puff pastry and top with the parsley, mozzarella and the Sarvecchio cheese. Sprinkle with salt and cracked black pepper. Bake in the oven for 30 minutes or until golden brown. Let sit for 5 minutes before slicing and serving.