TOP
Heirloom Tomato, Burrata & Cinnamon Basil Salad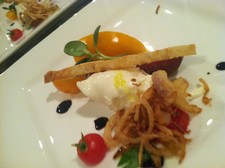 Recipe Date:
October 24, 2014
Measurements:
Imperial (US)
Ingredients
3 Heirloom tomatoes, sliced or quartered
4 ozs burrata cheese or fresh mozzeralla
4 leaves cinnamon basil, torn
1 shallot, sliced thin then tosses with flour and fried in olive oil until golden brown
2 tbsps extra virgin olive oil
1 tsp balsamic reduction or aged balsamic vinegar
Sunflower spouts and croutons to garnish
Kosher salt
Cracked black pepper
Directions
To assemble:
Carefully lay out tomatoes so they look colorful. Top with the burrata cheese. Season tomatoes and burrata with salt and pepper. Then top with cinnamon basil, sunflower spouts, crisp shallots and croutons. Drizzle with olive oil and balsamic reduction. Serve immediately.