TOP
Mustard Seed Crusted Bison Burger and red onion slaw with crostini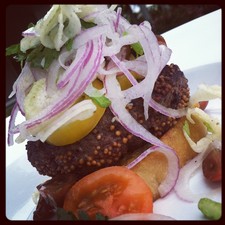 Recipe Date:
October 24, 2014
Measurements:
Imperial (US)
Ingredients
2 tbsps olive oil (1 for burger and 1 for bread)
2/3 lb ground bison, made into 2 oval shaped patties
1 tbsp whole yellow mustard seed
1/2 tsp cracked black pepper
2-1 inch slices of sourdough or French bread
For the slaw:
1 bulb fennel, sliced very thin on a mandoline slicer
1/2 red onion, sliced very thin on a mandoline slicer
1/4 cup celery leaves
1 tsp rice wine vinegar
1 tbsp extra virgin olive oil
1/4 tsp salt
1/4 tsp pepper
Directions
Using a large sauté pan place it on a burner and heat it on medium to high heat. Season the bison patties with salt, pepper and mustard seed. Once the pan is hot add the olive oil, carefully place the bison patties in the pan. Cook the patties on one side for 3-4 minutes or until they are a dark golden brown. Carefully flip over and turn the heat to low. Cook the patties for an additional 5-10 minutes or desired temperature. Pull of the heat and heat up another sauté pan for the crostini. Pour in the olive oil and then grill the bread in the pan on both sides until golden brown. Place crostini on a serving plate, top with the burger, and then toss the slaw and top the burger with the slaw. Serve immediately. Garnish with sliced tomatoes if desired.