TOP
New York Strip and Prosciutto Roulade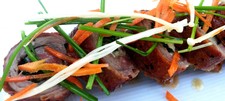 Recipe Date:
October 28, 2014
Measurements:
Imperial (US)
Ingredients
1 lb New York Strip sliced into 3 thin slices and pounded out thin
7 Basil leaves
3 tsps Dijon mustard
1/2 cup Cup Paradise Blue Cheese or high quality blue cheese
Kosher salt
Red chili flakes
2 tbsps Olive oil
1/4 lb Sliced prosciutto
Directions
Lay out 2-3 slices of prosciutto per slice of New York Strip. Then lay the pounded slices of New York Strip on top of the prosciutto. Spread over the Dijon mustard onto the 3 slices of beef. Sprinkle with Kosher salt. Lay 2-3 leaves of basil on to each piece of beef. Then in a line down the center add the blue cheese. Carefully roll the beef, prosciutto and filling into a log shape. Season the outside with Kosher salt and chili flakes.
Heat a sauté pan to high heat. Add in 2 tablespoons of olive oil. Carefully add the roulades without overcrowding. Allow each side to get golden brown this should take 3-4 minutes per side. Once they are a golden brown they should be medium to medium rare. Place them on a cutting board and allow them to rest for at least 3 minutes. Garnish is optional with carrot, enoki mushrooms and chives.