TOP
Olive oil & Herb Roasted Chicken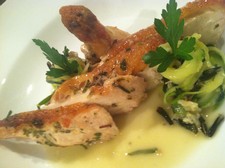 Recipe Date:
October 24, 2014
Measurements:
Imperial (US)
Ingredients
4 6-8 ounces portions of Airline chicken breast
1 tsp cracked black pepper
Small bunch of fresh oregano, chopped
Small bunch of fresh parsley, chopped
Small bunch of fresh tarragon, chopped
1 tsp fennel seed
1/4 tsp red chili flakes
2 cups SummerWood Viognier
1 cup extra virgin olive oil or high quality olive oil
For the Sauce:
1 tbsp olive oil
2 cups sliced crimini mushrooms or mushrooms of your choice
4 cloves garlic, chopped fine
1 cup marsala wine
1/2 cup cream
1 stick of butter
1 tsp salt
Directions
For the chicken:
Combine all ingredients and marinate for 1 hour.
Heat a large sauté pan to high heat. Add in 3 tablespoons olive oil when the pan is hot. Add the Chicken Breast skin side down carefully, throw out the marinade. Allow the chicken to get golden brown, this should take about 3-5 minutes and then turn over. Place the pan in the oven and cook for 10 minutes or until 155 degrees internally. Allow the chicken to rest for 5 minutes. Slice the chicken and serve with the mushroom sauce, vegetables or rice.
For the sauce:
In a sauce pan, add olive oil, garlic and mushrooms cook for 2-3 minutes or until garlic is light brown. Carefully add the marsala(take the pan off of the heat before adding). Add cream. Allow to cook for 7-10 minutes or it looks like it is reduced by half. Take off of the heat and add the butter with a whisk.