TOP
Roasted Brussel Sprouts with Bacon and Melted Gorgonzola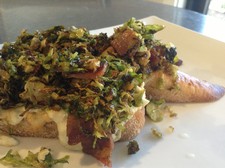 Recipe Date:
October 28, 2014
Measurements:
Imperial (US)
Ingredients
2 tbsps Extra-virgin olive oil
2 ozs Crumbled blue cheese, Gorgonzola.
4 slices of bacon, cooked and then chopped
1 lb Brussel sprouts, sliced thin
Directions
Take brussel sprouts and drizzle them with olive oil. Bake on a sheet tray in oven with olive oil for 10 minutes at 400 degrees. Season the brussel sprouts with Kosher salt.
Toss in the bacon and blue cheese.
Place on Toasted Baguette and serve immediately.