TOP
Salad Lyonnaise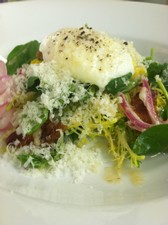 Recipe Date:
October 24, 2014
Measurements:
Imperial (US)
Ingredients
2 eggs
1 handful of spinach, sliced thin
1 handful of frisee
1 ear corn, cut off and cooked then cooled
2 strips bacon, cooked then crumbled or sliced thin
1/4 red onion, sliced thin
For vinaigrette:
1 tbsp red wine vinegar
1 tsp Dijon mustard
8 tbsps olive oil
1/2 tsp oregano
Pinch salt and pepper
Directions
For dressing:
Combine all ingredients, shake in a jar or whisk together. 
Heat a pot of water to boiling. Toss together spinach, lettuce, corn, red onion, and bacon with a small amount of the dressing. Crack the eggs into boiling water. Allow to cook for 3-4 minutes or until the whites of the eggs are white and not translucent. Carefully take out of the boiling water with a slotted spoon and carefully place atop of the dressed salad. Grate fresh parmesan over the top and cracked black pepper. Serve with toasted bread and a glass of a white SummerWood wine.