TOP
Slow Cooked Rosemary Beef Ragu in Vin Rouge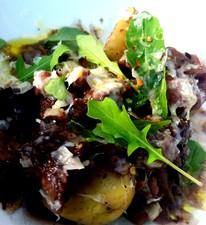 Recipe Date:
October 28, 2014
Measurements:
Imperial (US)
Ingredients
1.5 # beef large dice (stew chunks)
2 tbsps Olive oil
1 Celery root, small diced
1 Onion, rough chopped
2 Bay leaves
6 Garlic cloves, chopped
2 cups Summerwood Vin Rouge
2 tsps Kosher salt
1 tsp Cracked black pepper
10-12 small Yukon gold potatoes
Directions
Heat a large deep sauté pan or stock pot until very hot. Add olive oil and toss the beef into flour and salt and pepper. Dust off the beef and brown it until golden brown, brown in batches if needed.
It is important to not over crowd the pan or the meat will not brown. Take out of the pan and set aside.
Without removing any fat, sauté the celery root, garlic, onion and bay in pan until light golden brown.
Add the 2 cups of wine, rosemary sprig and stir until the brown is off of the bottom of the pan. Add the meat back in and bay leaves.
Cover with foil and place in a turn to low heat. Cook for 1 hour and then add potatoes.
Cook for an additional 45 minutes or until the meat is very tender. Stir in the butter and season if necessary.
Serve in a bowl and garnish with shaved parmesan cheese, chili flakes and chilled arugula.