TOP
Spiced Roasted Turkey with Fennel Seed and White Pepper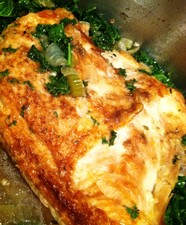 Recipe Date:
October 28, 2014
Measurements:
Imperial (US)
Ingredients
1 Bone on bone-in free range or organic turkey breast
1 tsp Kosher salt
1 tsp White pepper
1 tsp Fennel seed
3-4 Tablespoons Extra Virgin Olive Oil
2 Yellow-sweet onions, small diced
4 Celery stalks, chopped fine
7 Cloves garlic, chopped fine
2 cups Summerwood Viognier
1 Bunch green or purple kale
1 tbsp Butter
1/2 tsp Salt
Directions
Preheat Oven to 325 degrees.
Heat a large stock pot to high heat. When the pot is hot, add 3-4 tablespoons of extra virgin olive oil.
Quickly season the turkey breast on both sides with the salt, pepper, and fennel seed. Carefully lay the turkey in the pan breast side down.
Cook turkey for 5-7 minutes or until it is golden brown. Flip the turkey over and cook an additional 5 minutes or until golden on the other side.
Take the turkey out of the pot and set on a plate.
To the pot add the onions and celery and cook for 6-7 minutes or until the onion is golden brown. Add the garlic and cook for 2-3 minutes.
Place the Turkey back in the pan on top of the onions and pour in the Viognier. Cover the pot and place the pot in the oven for 50 minutes or the internal temperature of the turkey is 155 degrees.
Pull the lid off and around the sides of the turkey press the chopped kale into the braising liquid. Season the kale with the ½ teaspoon of salt. Place back in the oven for an additional 15 minutes uncovered.
Let the Turkey rest for 5-10 minutes before slicing. Carefully cut the entire breast off of the bone and then thinly slice the turkey. Stir in the tablespoon of salt to the kale and onion. Serve the sliced turkey on top of the Viognier-onion braised kale.