TOP
Syrah braised Lamb Shank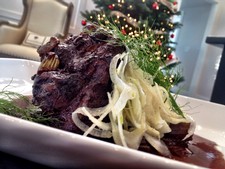 Recipe Date:
October 28, 2014
Measurements:
Imperial (US)
Ingredients
3-4 # bone in Lamb shank
2 tbsps Olive oil
1 Carrot, rough chopped
3 Stalks celery, rough chopped
1 Onion, rough chopped
2 Bay leaves
3 Garlic cloves
1 Bottle of Summerwood Syrah
2 tsps Kosher salt
1 tsp Cracked black pepper
Directions
Heat a large deep sauté pan or stock pot until very hot. Add olive oil and season the short ribs with salt and pepper. Sear the short ribs until golden brown and take out of pan and set aside. Without removing any fat, sauté carrot, celery, garlic and onion in pan until light golden brown. Add the1 bottle of wine and stir until the brown is off of the bottom of the pan. Add the meat back in and bay leaves. Cover with foil and place in a 300 degree oven or 2.5 hours or until fork tender. Or bring to a boil, then lower to a simmer and cook on stove top until tender about 2-3 hours. Taste for seasoning. Serve on pasta potatoes, or toasted bread.