TOP
Tarragon and Shallot Roasted Veal Chop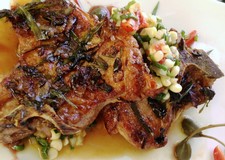 Recipe Date:
October 28, 2014
Measurements:
Imperial (US)
Ingredients
2 Shallots, chopped fine
3 Sprigs of tarragon, leaves only, and stems removed
2 tbsps Olive oil
2 Veal chops, about 1/3 pound each
1 Ear of white corn, corn kernels removed
1 Chayote squash, peeled, and diced very small, brunoise, don't use the center(pitted).
10 sweet 100 tomatoes or 1 roma tomato diced small
2 tbsps Chicken stock or water
1/2 bunch of scallions, sliced very thin
3 Caper berries, diced small
1 tbsp Olive oil
Directions
First, marinate the veal chops with the shallots, tarragon and olive oil. Let marinate room temperature for 30 minutes.
In a small sauce pan heat 1 tablespoon of olive oil. Add the corn and squash. Cook until it is sweated about 4-5 minutes. Add the tomatoes, caper berries and 2 tablespoons of chicken stock or water and 1 teaspoon kosher salt. Bring to a boil and then turn off the heat. Add the scallions and butter. Set Aside.
For the veal chop:
Heat a large sauté pan to high heat. Add in 3 tablespoon of extra virgin olive oil and carefully place in the marinated veal chops- leave any shallots and tarragon on the meat, and throw out the access shallot and tarragon. Allow to brown, this should take 4-5 minutes. Carefully flip the meat over and turn the heat to low. Allow to cook another 4-6 minutes or until the internal temperature is 130 degrees. Take out of the pan and allow resting for a few minutes. Stir the warm chayote, white corn mixture and then scoop on a plate and top with the veal chops. Serve immediately.