January 15, 2015 | Kim Murphy Rodrigues
New Releases for 2015
We're welcoming 2015 at SummerWood Winery & Inn with new wine releases and some healthy recipes! Drop by the tasting room and check out the 2013 Viognier, 2011 Syrah and 2011 Reserve Cabernet Sauvignon. The Viognier, a blend of fruit from both Alta Colina and Hearthstone Vineyards, features aromas of white peach, honeysuckle, orange blossom and apricot pie. The wine is enticing, with flavors of creamy, ripe peaches and apricots intertwined with citrus and honey. The acidity is immense, with a long, persistent finish. The 2011 Syrah is a treasure box of aromas -- ripe plum, black cherry, licorice, tobacco leaves, chocolate, vanilla and leather, leading to complex, full flavors of black cherries and plum with a touch of dark chocolate and butterscotch. The Reserve Cab hails from the Stanger vineyard; its dark, inky red color hints at the intensity of this vintage -- berry and cherry aromas invite notes of dark chocolate, pencil shavings and cassis with a hints of vanilla, cola and sweet, toasted oak. The flavors echo the aromas with a touch of roasted coffee beans. This wine is a favorite of Winemaker Mauricio Marchant, who suggests enjoying some now and holding back a few bottles for your future enjoyment!
Chef Kelly has been busy adding lots of great recipes to her blog and Facebook page (Chef Kelly). Check them out for healthy, farm-fresh additions to your menu! (My favorites are the Farro Salad with Pumpkin Seeds and the Zucchini Cakes!)
We hope to see all of our valued wine club members at the Annual Member Appreciation Party on February 21, 2015 (11am-2pm). Be sure to RSVP to 805.227.1365 ext. 11 or via email. Kelly and Mauricio have a fabulous menu/pairing prepared for the celebration!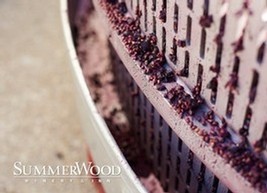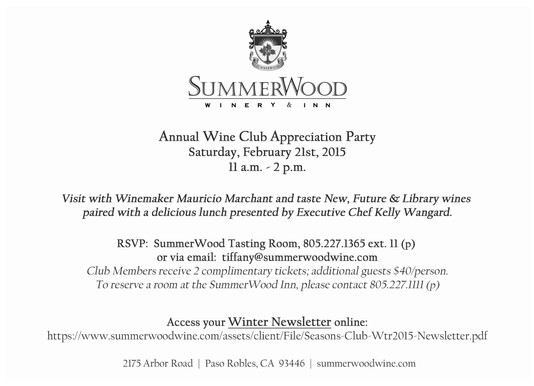 Best wishes for a wonderful 2015 -- cheers!
Kim